Hipp Organic Combiotic Stage 3 Growing Up Baby Milk Powder 800g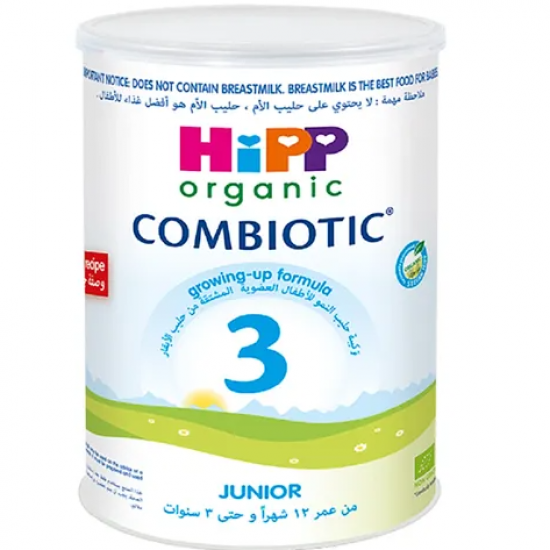 Hot
Hipp Organic Combiotic Stage 3 Growing Up Baby Milk Powder 800g
Stock:

In Stock

Model:

alhdyah729

Weight:

800.00g

Hipp
HiPP nutritionally-complete formulas are some of our most popular and best-value products. HiPP UK Stage 3 Combiotic Growing Up Milk is the ideal next step for your little one after his or her first birthday, no matter how much or how little solid food is in your baby's diet. HiPP UK Stage 3 contains all of the nutrients that your growing baby needs, in quantities designed to build strong bones and support cognitive development in toddlers. Compared to cow's milk, HiPP UK Stage 3 has increased levels of iron, calcium, Vitamins A, C, and D, as well as other micronutrients that your baby needs to grow and thrive. It's ideal for babies who have grown up on HiPP UK Stage 1 and Stage 2, in addition to those who are transitioning to formula and need a high-quality alternative or supplement to breast milk.
General
Ingredients
Skimmed Milk, Lactose, Vegetable Oils (Palm Oil, Rapeseed Oil, Sunflower Oil), Fiber (Galacto-Oligosaccharides From Lactose), Potassium Citrate, Calcium salts of Orthophosphoric Acid, Calcium Salts of Citric Acid, Magnesium Sulphate, Vitamin C, Ferrous Sulphate, Stabiliser Lactic Acid, Vitamin B2, Vitamin E, Vitamin A, Potassium Iodate, Biotin, Vitamin D, Vitamin B12.
Preparation
1) Wash your hands and ensure that all equipment is thoroughly washed and sterilised following the manufacturer's instructions. 2) Boil 1 litre of freshly-run tap water and leave to cool for no longer than 30 minutes. Do not use artificially softened or repeatedly boiled water. 3) Measure the required amount of water into a sterilised bottle, following the feeding guide on the pack. 4) Using the scoop provided, add the correct number of scoops of powder – one level scoop of powder for each fluid ounce of water (approx. 30 ml). Level off the powder with the back of a clean dry knife, but don't press the powder down into the scoop. 5) Place the sterilised teat and cap on the bottle and shake well until all the powder has dissolved (approx. 15 seconds). 6) Cool the milk to drinking temperature (approx 37°C) by holding the bottle under cold running water. ALWAYS test the temperature of the milk before feeding by dripping a bit onto the inside of your wrist; the milk should feel warm, not hot.