Earth's Creation Andro - T Natural Testosterone Booster 60 Capsules (1 + 1)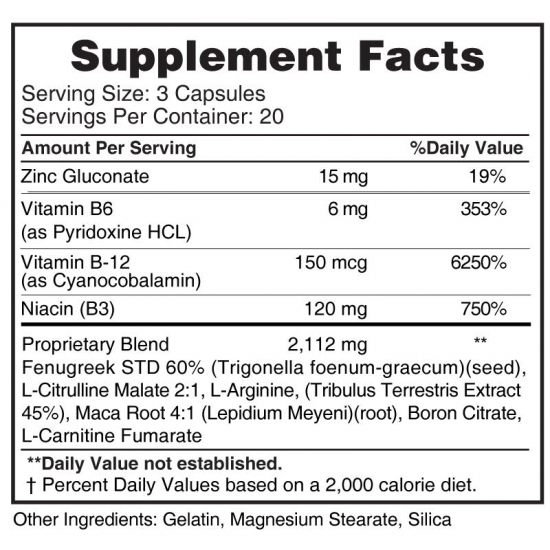 Earth's Creation Andro - T Natural Testosterone Booster 60 Capsules (1 + 1)
Stock:

In Stock

Model:

vtsq-000005
"STAY ACTIVE. DON'T LET YOUR AGE STOP YOU FROM LIVING LIFE."
Andro-T by Earth's Creation USA is the most effective and unique dietary supplement which is an all-natural, highly effective testosterone booster that increases sexual performance, stamina, and libido, all while supporting mental focus, maximal strength, and male vitality. So if you are looking for a serious testosterone support in your life, look no further.
FEEL THE BOOST.
1. Libido & Sexual Desire: Andro-T's all natural ingredients will not only improve your stamina, strength and vitality. But will also improve your mood and confidence; in and out of the bedroom.
2. Stamina: suffering from low testosterone levels impacts libido, strength, and stamina. Which is why Andro-T is a natural testosterone booster that will help replenish and restore your livelihood.
3. Strength & Vitality: stubborn belly-fat? Not anymore. Andro-T is an all natural testosterone booster that will shred fat, giving you more energy to create lean, strong muscles.
4. Fenugreek, Tribulus Terrestris and Maca Root are among the ingredients which help to increase libido and sexual performance.
5. Zinc Gluconate & Vitamins B-3 and B-6 help to ensure the production of free testosterone in the body.
6. Amino acids like L-Citrulline & L-Arginine help to boost nitric oxide levels, improving circulation and muscle growth.
7. L-Carnitine & Boron Citrate help supports function in the cells and improve stamina, giving you raw, clean, long lasting energy.
General
Usage
DOSE: take 3 capsules daily with water on an empty stomach.