Rapidfire Slim Tea Herbal Lemon Teatox 14 Bags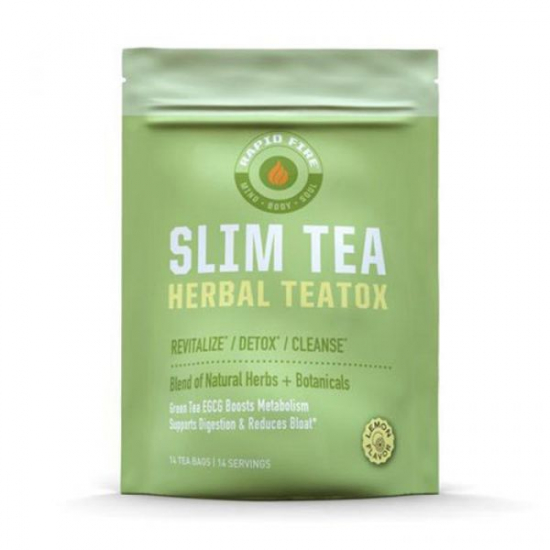 Rapidfire Slim Tea Herbal Lemon Teatox 14 Bags
Stock:

In Stock

Model:

lyf-mx-012

Rapid Fire
Rapid Fire Slim Tea 14 Day Herbal Detox is a purifying blend of green and matcha tea for simply healthier living, reduced bloating, supported energy levels and more! This advanced formula is packed with efficacious antioxidants and has been shown to stimulate healthy digestion and cleansing of the digestive tract. Once cleansed, nutrient absorption and energy from your food and fluids become enhanced, all for promotes feelings of well-being. Individuals have enjoyed tea for centuries. It has been highly regarded for its numerous health benefits that have been documented from extensive research. Rapid Fire SlimTea has evolved this beloved beverage to America's secret weapon to not only promote weight loss but also help reduce bloating and support energy levels; plus more! It's created from a quality blend of 14 natural herbs and botanicals.
This premium combination of detoxifying herbs offers a health-promoting teatox that individuals can enjoy daily. SlimTea is an advanced formula with efficacious antioxidants, such as matcha tea, that has been shown to stimulate healthy digestion and supports cleansing of the digestive tract. Once the digestive system is cleansed, absorption of nutrients and energy from food is enhanced, which promotes the feeling of well-being. This amazing green tea offers a rich source of epigallocatechin gallate (EGCG) that helps boost metabolism, burn fat and reduce toxins.
Directions:Bring water to a boil and steep for 5 to 10 minutes. Remove strainer and enjoy hot or cold. Drink 1 to 3 cups anytime during the day. Slim Tea can be used for 14 days. Take a week off and then resume the program again. When to drink: Enjoy 1 tea bag daily in the morning or in the evening.Taste Tips: Add honey or lemon.